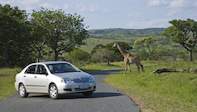 Madikwe Game Reserve self-drive safari packages and itineraries for a fabulous wildlife safari holiday in South Africa.
For those who hate to fly or who just enjoy an old-fashioned road trip - these Madikwe self-drive safari trips are for you! Driving to Madikwe Game Reserve from Johannesburg will take a little over 4 hours.
While you are allowed to self-drive from the Madikwe Game Reserve gate to the lodge where you will be staying, you are not permitted to go out on game drives on your own.
Fewer vehicles mean less crowded sightings of wildlife as well as less disruption to the wildlife. Expert Madikwe trackers and rangers will take you out on daily guided game drives to see all the wonderful wildlife Madikwe has to offer.
When driving to your Madikwe safari lodge don't worry - the roads are in good condition, and there aren't too many vehicles around, so you can rest assured that your chances of seeing some animals are high. Just be sure to respect the animals when driving through their territory!
You might even see an elephant in the road - just keep your distance, turn off your engine, and enjoy the moment!