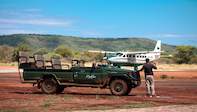 Lying in South Africa's Northwest Province and bordering Botswana the Madikwe Game Reserve is prefect for a safari near Johannesburg. It is accessible from anywhere in South Africa, by road or air.
Getting to Madikwe by Air
Flights from Johannesburg
A daily air shuttle operates between Johannesburg and Madikwe. Departing from OR Tambo International Airport the flights are operated with aircraft from the latest model Cessna Grand Caravans to twin-engine aircraft.
The flight to Madikwe take about one hour, making it an ideal destination for a safari near Johannesburg.
Flights from Gaborone. Botswana
This is the shortest and quickest route for international travellers who have been visiting Botswana. A light aircraft charter flys direct to Madikwe - cutting out the round-about trip through Johannesburg.
Luggage Restriction
1 piece standard soft-sided luggage not exceeding 20kg
1 piece carry-on hand luggage not exceeding 5kg
Getting to Madikwe by Road
The 75 000 hectare reserve has a number of entrance gates, each accessing specific lodges in the reserve. Information concerning the correct entrance gate to use will be
provided upon reservation
of your accommodation for your Madikwe South African safari.The access gates to Madikwe are Abjaterskop, Wonderboom, Tau, Derdepoort and Motledi and generally the lodges in the western part of Madikwe are accessed by the
Wonderboom Gate
and those in the central and eastern part of the Game Reserve are accessed via the Abjaterskop Gate.
From Johannesburg and Pretoria
Drive north on the N1 towards the N4 Toll road.
Take the N4 Toll road
This will take you through Rustenburg, Swartruggens and Groot Marico to Zeerust.
In Zeerust, take a right at the second stop street into President Street.
Look out for a signpost on the left: "Madikwe Game Reserve/Gaborone"
Continu on this road, the R49, towards Madikwe for approximately 97km.
First entrance to Madikwe is Abjaterskop Gate.
Second entrance to Madikwe is the Wonderboom Gate - 7km beyond the first gate.
From Botswana
Most of Botswana's legendary wilderness areas are in the far north of the country, far from the capital Gaborone, but for visitors to the capital the option of
Madikwe Game Reserve is a popular choice
. A mere 30 km away Madikwe provides the ideal getaway for business travellers and residents alike.
Customs and immigration procedures between Botswana and South Africa are quick and hassle free, allowing for a short travel time into Madikwe.
Distances to Madikwe From:
Gaborone Airport (Botswana) - 28km
Johannesburg - 360km
Pretoria - 400km
Zeerust - 100km
Madikwe Infographic
Click here to open a handy Madikwe Infographic