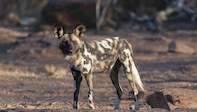 On safari in Madikwe Game Reserve visitors stand a pretty good chance of seeing Madikwe's Wild Dogs.
Well known for great sightings of its resident packs, Madikwe Game Reserve has a viable and flourishing population of these fascinating creatures. Wild Dogs are among the "Super 7" animals found on this massive reserve which includes Cheetah as well as the traditional Big Five animals; Elephant, Lion, Buffalo, Leopard and Rhino.
Malaria-free Madikwe Game Reserve is now one of South Africa's biggest reserves. Its rich variation of habitat encourages great diversity in game and bird species. Madikwe has become a modern Noah's Ark with more than 8 000 animals of 28 species having been released onto the rehabilitated reserve. This ground breaking reintroduction programme called Operation Phoenix was completed in 1997.
Wild Dogs Trans-located to Madikwe
Wild Dogs were trans-located to Madikwe Game Reserve in 1994. This highly endangered species number between 3 000 and 5 000 left in the world and can only be found in the larger reserves or in uninhabited regions of Southern and Eastern Africa. The founding group of six Madikwe Wild Dogs were drawn from a breeding station for rare and endangered species and from the wild near Kruger National Park.
Since then Madikwe has carefully watched and fostered the progress of its Wild Dog Clans whose journey has been exciting and sometimes treacherous with some devastating losses through clan clashes, lion attack and rabies. Madikwe Game Reserve has gone to great lengths to ensure the maintenance of its clans and successfully introduced new Wild Dogs from other reserves.
Wild Dog Clans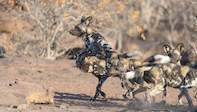 Wild Dogs are very sociable animals. Packs number between five and fifteen members. There is a strictly defined social hierarchy within each pack, led by an alpha male or female. Bonds between all members are very close, with co-operative hunting, food sharing and care for any pups as well as injured or sick pack members.
Wild Dogs are fearsome hunters (followed by Hyena and Lion), dispatching 80% of what they go after (including large prey like Buffalo), compared to Lion which manage around 30%.
Their close knit society has many advantages but this intimacy can lead to an entire clan being wiped out should there be an outbreak of rabies or distemper. Even though Africa's Wild Dog population is suffering from persecution by man, susceptibility to disease and loss of natural habitat, there is now an intensive push to conserve and protect these amazing animals for future generations.