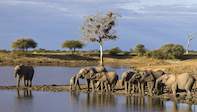 These Madikwe safari getaway packages offer relaxation and lots of wildlife viewing. Just a short flight from Johannesburg or a 4-hour drive - what are you waiting for?
Madikwe Game Reserve is an amazing safari destination in South Africa - not only is it malaria-free but it has Big 5 wildlife (Lion, Leopard, Elephant, Buffalo, Rhino) as well as an abundance of other creatures great and small.
Located in a beautiful and unspoiled part of South Africa, with stunning landscapes and breathtaking views, Madikwe provides a stunning backdrop for any safari adventure.
All our Madikwe Game Reserve safari packages are flexible and can be tailor-made to suit your needs, time and budget. Our friendly Destination Consultants are here to help you plan your dream safari getaway.