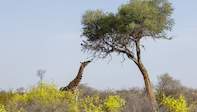 Many parks around Africa have a high season and a low season for visitors but the Madikwe Game Reserve in South Africa is one of the best all year round Big Five safari holiday destinations.
Travelling to South Africa on safari often depends on the weather and the seasons, as they affect the game viewing experience to a large degree. The onset of the
rains brings on new growth
and the bush greens and thickens, making it difficult for game viewing.During the dry season animals generally concentrate around available water making it easier to spot wildlife.
There are however some reserves in South Africa that provide an all year round game viewing experience - and
Madikwe Game Reserve
in the Northwest Province, is one of the best options for getting the best of Africa at any time of the year.
Wildlife and the Seasons at Madikwe
As with other regions of Africa there is a wet and a dry season in Madikwe but as the reserve is a single management unit the animals in the reserve do not undertake any major migrations. The animals may move around locally but they will always be in an area where they can potentially be spotted.
The rains in Madikwe generally fall between October and March - April. It can be said that animals are more difficult to spot in the wet green season but the experience of the guides ensures that no matter how thick the vegetation is a great wildlife experience awaits.
Best Time to Visit Madikwe
As Madikwe is a single unit conservation area there is no major migration of wildlife, although local movement is prevalent over the seasons. What this in fact means is that the
animals stay in the reserve permanently
, making it ideal as an all year round safari destination.For birding enthusiasts however the
wet summer months October to March
are the best time to visit as this is when the migrants swell the species numbers. The dry months are still a good time for birders in Madikwe however as there are many fascinating
resident species
of birds.The winter months, approximately
July through September,
can be the most rewarding for game viewing and the weather is pleasant, with
warm days and cold nights
. It is a time when the vegetation is thinning out and the animals are concentrating around available water, making it easier to spot them.