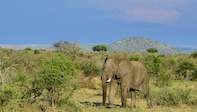 © Roger de la Harpe
Madikwe Game Reserve offers a malaria-free safari in South Africa with superb wildlife and game viewing activities for the whole family.
Rugged stretches of woodland and grassland plains meet the horizon at the majestic Dwarsberg Mountains in the far north of the North West Province. This wildlife wilderness edges onto the Botswana border to form the malaria-free Madikwe Game Reserve, one of the largest and most fascinating malaria-free safari Big Five game reserves in South Africa. The area is dotted with rocky hills, mountains, open stretches of savannah and a unique topography allowing excellent game viewing opportunities.
With more travelers becoming concerned about malaria medication, choosing a malaria free game reserve has become a paramount factor which needs to be considered when planning a wildlife safari holiday. This special feature of the malaria free Madikwe Game Reserve in South Africa sets the wildlife area apart and is fast gaining large popularity amongst local and international travelers because of its status.
Although this wildlife reserve in South Africa is in a remote wilderness setting, it is easily accessible by air charter, from most major road networks in Southern Africa and a comfortable four hours drive from both Johannesburg and Pretoria. Madikwe Game Reserve is distinguished from most parks as it is a completely malaria free game reserve, making it safe for children, pregnant women and families. Visits to the park are not seasonal bound, ideal for families to enjoy safari holidays all year round without having the risk of the disease.
Not only is Madikwe Game Reserve a malaria-free safari destination, its prime location right on the edges of the rugged Kalahari thornveld region creates the ideal natural habitat for exclusive large mammals with both Black and White Rhino, Lion, Leopard and more than 350 resident and migrant bird species. The Madikwe Game Reserve is one of few African parks boasting malaria free Big Five game reserve status, which include Elephant, Rhino, Buffalo, Lion and Leopard.
Super 7 Wildlife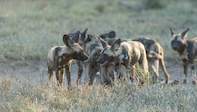 The park also has the 'Super 7', adding Wild Dog and Cheetah to the traditional Big Five. Many species were reintroduced to the area following the park's proclamation in 1991 focusing strongly on the conservation of Sable, Eland, Giraffe, Gemsbok and Brown Hyena which can be spotted in the Reserve today.
Madikwe Game Reserve follows a strict policy of conservation, environmental rejuvenation and restoration of wildlife species indigenous to the area. Operation Phoenix became the world's largest game translocation project during the 20th century, completed shortly after its proclamation to reintroduce wildlife back into the malaria free Madikwe Game Reserve's prime natural habitats. Altogether more than 8000 animals from 28 species have been released into the reserve.
Madikwe's safari accommodation is anything from family-friendly safari lodges and fabulous luxury to intimate luxury lodge suites and authentic bush camps. You are bound to find the perfect malaria-free safari accommodation in Madikwe Game Reserve to suit your budget and holiday needs.
Guided Game Drives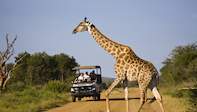 Madikwe has been developed to provide a very personalised experience for the visitor. An essential part of any visit to the park is day and night drives on open safari vehicles accompanied by qualified rangers whose knowledge of the area will greatly enhance the overall safari experience. The area has a fascinating history dating back to the Stone Age. Guests have the peace of mind to enjoy these outdoor safari activities without having to take prophylaxis medication or the risk of malaria.
This malaria-free safari game reserve is an area steeped in culture, legend and wilderness. The reserve has become a South African success story. Its near-perfect ecological environment, stimulating conservation efforts and being a rare malaria free destination safe for the whole family, has made Madikwe one of Africa's prime wildlife destinations.