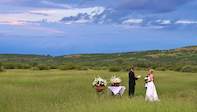 These romantic Madikwe honeymoon safari packages are ideal for honeymooners or couples looking to escape it all. Madikwe Game Reserve is only a short flight away from Johannesburg.
An African Safari is becoming the top choice for honeymooners for a romantic getaway and Madikwe Game Reserve is one of the best wildlife safari destinations in South Africa.
Madikwe safari lodges cater for all tastes and styles, allowing for the perfect fit for any couple, and the lodges have special treats for honeymooners. Five star service and accommodation combine with fine food and wine to provide the ultimate in romantic Africa safari travel.
Spending days searching for the big game of Africa whilst enjoying the scents and sounds of the wilderness add to the romantic occasion, as the senses open to new discoveries. The guides of Madikwe are all specialists and will share their experiences of life in Africa and their knowledge of the wilderness is part of the enchantment.
A further benefit Madikwe Game Reserve has for honeymooners is that it is easily accessible, meaning that there are no long transfers and potential delays - and honeymooners can choose to fly in or drive themselves.