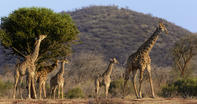 Madikwe Game Reserve presents a top quality, luxury, African safari experience, with knowledgeable game-rangers, professional hospitality staff, and abundant wildlife.
The Experience
One cannot help but relax in the tranquil setting of the Madikwe Game Reserve. The wildlife viewing in the reserve is second to none with the Big Five and other wildlife in abundance. Picture yourself meandering across an African plain then stopping for a few minutes to listen carefully to the unique calls your ranger has picked up. Can you hear it?Then suddenly you are off as the 4X4 pushes forward and suddenly you find yourself face to face with a Lioness on the prowl. After the thrill of your adventure you then return to the lodge for a delicious breakfast and then perhaps a swim in the pool or for a sensual treatment at the spa. You will wish you could stay forever in this idyllic slice of heaven.
Access
Madikwe Game Reserve can only be entered by visitors staying within the reserve.
By road - Madikwe Game Reserve is just 4 hours drive from Johannesburg; the closest town to Madikwe is Zeerust which is located 90 kilometres (55.92 miles) away.
By air - Visitors can take a 1-hour flight on a shuttle flight (small plane) that departs from and returns to Johannesburg's O.R. Tambo International Airport daily.
Internal Road Network
Madikwe Game Reserve lodges tariffs include daily game drives. Guests are not allowed to drive around the reserve by themselves. This ensures the safety of guests and wildlife. Expert rangers will ensure you get to see the best wildlife sightings.
Airport
The closest airport is Johannesburg O. R. Tambo International Airport.
Highlights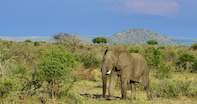 Madikwe Game Reserve is a malaria-free area which makes it ideal to visit with small families. There are 74 listed mammals in the wildlife reserve and visitors can looks forward to fantastic sightings of the Big Five of the African animal kingdom as well as the endangered Wild Dog. With 20 lodges and bush camps to choose from, one is guaranteed to find the ideal accommodation style to choose from.
As the nature park is reserved for over-night visitors only the Madikwe game reserve experience feels even more unique and special, and is heightened by guided game drives by experienced guides who know the areas well.
Activities
A visit to the Madikwe Game Reserve offers visitors so much more than the usual safari park experience. While staying in one of the luxury safari lodges visitors can enjoy daily guided game drives, both in the early morning and early evenings, as well as guided game walks where experienced rangers will guide you through the bush.The reserve has a number of hides within it where guests can sit and watch over a watering hole while a herd of Elephant frolic in the water or a family of Warthog play on the banks. Aside from game drives many of the lodges also offer wellness spas where one can enjoy a number of relaxing spa treatments.For those needing to exert a little more energy a number of the lodges also offer fully equipped gyms. After the early morning game drive and delicious breakfast guests can choose to relax by the swimming pool, under the rays of the warm African sunshine, or wander along a viewing deck to see what animals are out in the middle of the day. Madikwe game reserve is home to at least 340 bird species and is also a popular destination for bird-watching.
Accommodation in Madikwe Game Reserve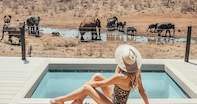 Madikwe Game Reserve offers luxury accommodation ranging from 4 to 5 star Madikwe safari lodges. Guests are guaranteed top-quality accommodation in Madikwe, gourmet cuisine and the highest levels of service.
See Madikwe Safari Lodges most of which are family-friendly or peruse the very best romantic safari lodges in Madikwe Game Reserve
Madikwe Safari Package Holidays
This selection of Madikwe Safari Package Holidays in South Africa can all be customized to suit your needs and budget.
Climate
The Madikwe Game Reserve is in a summer rainfall region with rain occurring mostly between November and March. The dry months, May to August while crisp and clear can also be very cold with frost falling frequently at night.
Explore Our Madikwe Safari Guide