From 26,000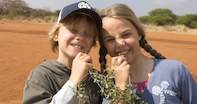 This Children on Safari in Madikwe package offers a wonderful family safari experience, in the malaria-free Madikwe Reserve - one of the best places for family safaris in South Africa.
Accommodation: A spacious en-suite family room which sleeps 2 adults and 3 children (under 13 years)
Activities: Morning and afternoon game drives and nature walks; kids - a Jungle drive and game room
Destinations: Madikwe Game Reserve
Children on Safari Experience
The Children on Safari Package has to be one of the best family safaris in South Africa! Go on a fantastic safari into the malaria-free Madikwe Game Reserve, which is situated on the border with Botswana. It is close to Johannesburg and Pretoria making it ideal for a family weekend getaway.
There are exciting safari activities for the whole family. Small children can go on a shorter Jungle game drive focusing on tracking and looking for the regions less dangerous animals such as Zebra and Impala. There is also a games room, filled with toys and exciting games that will keep the kids entertained for hours.
Families can go out on game drives together in a private vehicle, or mom and dad can enjoy a safari while the kids are kept entertained back at camp. The chef will find out the children's likes and dislikes and prepare a kiddies menu for them. Adults can savour delicious safari-inspired cuisine out under the stars in the traditional boma (meeting place).
Day 1: Johannesburg - Madikwe Game Reserve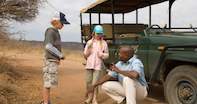 On the first morning you will travel to the malaria-free Madikwe game reserve. Once you have arrived at the lodge, you will have time to settle into your special family suite which is comfortably furnished and has a private plunge pool. If you are going to arrive early enough, you can pre-book a tasty lunch.

The chef will meet with the children and discuss their preferences. You will have time to relax before tea, after which you will set out on your afternoon game drive. Children over 5 years are allowed on the game drive with their parents. Younger children will enjoy a shorter game drive in search of Giraffe, Hippo and Zebra, or can play in the games room under supervision while their parents enjoy a game drive.
Day 2: Madikwe Game Reserve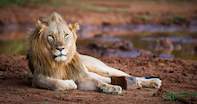 Your day will start early, as this is the best time to see the wildlife. Enjoy a cup of tea or coffee and have a snack before heading out on your morning game drive. This can be adults only or a family affair. If mom and dad head out alone, the children will be entertained in camp with a range of games and a Jungle drive, where they will learn about the toothbrush bush, how to track animals, and see the regions smaller animals and creepy crawlies.

Once you have returned to camp you will have breakfast together as a family. This will be followed by some leisure time where the kids (and parents too) can have a refreshing swim. You could have an optional spa treatment or go on a river walk, which is a great opportunity to see the many species of birds in the area.

You will have a light lunch followed by the afternoon game drive. Young children will have an early dinner and older children can join their parents in the boma for dinner.
Day 3: Madikwe Game Reserve - Johannesburg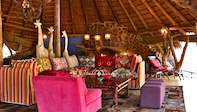 On the last day of your Children on Safari Package, you will enjoy one last game drive as a family or adults only before returning to the lodge for breakfast. You will then say your farewells and return to Johannesburg/Pretoria according to your chosen package option.