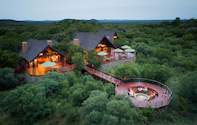 Unsurpassed safari experience that offers refined luxury within the breathtaking awe of the untamed wild, the magic of Mateya Safari Lodge awaits you.
Why We Love it and You Will Too
Expect superb service and privacy - ideal for a romantic couple's getaway
Suites have uninterrupted views of the waterhole and the wildlife it attracts
The luxurious suites have private outside showers and a rim-flow pool
Mateya Safari Lodge boasts one of the finest African art collections, a wine cellar and a wellness centre
Look out for the Super 7 - Elephant, Rhino, Buffalo, Lion, Leopard, Cheetah and Wild Dog
Your Mateya Safari Lodge Experience
The history of man is rooted in the Madikwe landscape. As you open your heart to the beauty of Madikwe you will bear witness to the ancient pulse of mankind. It is here where history and beauty are entwined and fed by tales of romance. It is here that the famous explorer, Sir David Livingstone, fell in love and married Mary Moffat.
The Mateya Lodge draws inspiration from ancient ruins that closely resemble those found in Zimbabwe. The ruins are witness to a journey made by the great Queen Mateya who, threatened by drought in Zimbabwe, embarked on a journey in search of Modjadji, the Rain Queen.
On her return she settled within the splendour of the Madikwe landscape. The remains of her settlement lie in ruins from which the ancient voice of history echoes in the African bush. Today a majestic bronze statue stands proud in resemblance of the queen.
The elegance and prestige of Mateya set in the rocky outcrop of the gabbo hills, pays perfect homage to her memory. It is here that the unique fusion of African heritage is drawn together with the utmost finesse and style. Guests with a thirst for unsurpassed blend of beauty, discerning taste and cultural delights can relax and indulge in inspiration drawn from every corner of the continent.
Art in the Wild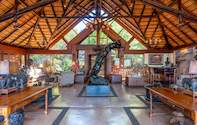 In celebration of a rich history of diversity and the untamed beauty to which the lodge is home, Mateya Safari Lodge has acquired one of the world's finest collections of art from throughout the continent. Each piece purposefully chosen for the way in which its canvas captivates a vibrant feel for Africa.
Proudly, Mateya Safari Lodge is home to 21 original paintings by Paul Augustinus for whom the vast landscapes and abundance of wildlife have been an emotive inspiration. Nothing quite captivates the vitality and exhilaration of the wild like Robert Glen's magnificent bronze sculpture of an agile Lioness attempting to bring down a leaping impala - 'Near Miss'.
Adding to the allure of this piece, Mateya also boasts several exquisite bronze sculptures by Dylan Lewis. Mateya Safari Lodge prides itself on its superb service, on its dedication to the satisfaction of every guest's refined needs, and on its sophisticated standards of care that are fit for a queen.