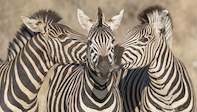 The malaria-free Madikwe Game Reserve in South Africa provides one of the foremost wildlife experiences on the continent and the activities and guides in the park ensure the best opportunities.
Madikwe Game Reserve has risen from the ashes of disturbed farmland into one of Africa's most
popular wildlife safari choices
. The most extensive wildlife relocation programme in the world, known as Operation Phoenix, has ensured that the park is well stocked with good numbers of the animals that occurred in the area historically.Today a number of
up-market safari lodges
provide five star service and accommodation for guests wanting to enjoy an African wildlife safari without the fear of contacting malaria - and a range of activities with experienced guides ensures a safari experience comparable with anywhere else in Africa.Most the lodges in Madikwe are set overlooking waterholes that attract wildlife in numbers,
allowing guests to view animals
from the comfort of their rooms. In fact there are guests that come on a South African wildlife safari to Madikwe and do not leave their rooms except to dine in the main building.
Big Five Wildlife in Madikwe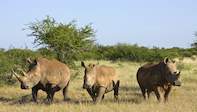 ©Roger de la Harpe
The Big Five can be spotted on a safari in Madikwe, with the reserve boasting the
second largest number of Elephants
in South Africa after Kruger Park. Another attraction is the presence of black and white Rhino in the park.Lions are regularly seen hunting and patrolling their home ranges and Leopard, although difficult to find, are often tracked by the guides. Buffalo herds and individuals are a regular feature of a Madikwe game drive.
Other Animals of Madikwe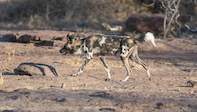 Besides the Big five the Madikwe Game Reserve is also known for the presence of Cheetah and the endangered African Wild Dog which are part of a special management programme at the reserve. Few places in Africa can boast a wildlife safari with such a diversity of 'must see' species.
Other favourite species that guests want to see on their animal safari such as Zebra and Giraffe are also found in Madikwe and are regularly seen on game drives - and even from the guest rooms.
Birds of Madikwe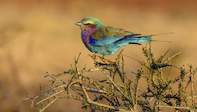 ©Roger de la Harpe
The summer months are generally considered the best for birding in southern Africa as this is the time when all the
yearly migrants have arrived
and although also true for Madikwe it must be noted that the dry winter months can be just as rewarding for birders. With more than 350 species Madikwe is a true birding destination.