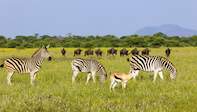 © Roger de la Harpe
Home to the Big Five of the African animal kingdom, the magical Madikwe Game Reserve is located at the top of South Africa on the border of Botswana.
The magical Madikwe Game Reserve is a magnificent 75 000 hectare safari destination. Situated in the north of South Africa on the border of Botswana on the edges of the Kalahari, Madikwe Game Reserve is a malaria free game reserve. An easy 4 hour drive from Johannesburg, the closest town to Madikwe is Zeerust, a small town just 90 kilometres (56 miles) from the park's entrance.
Although Madikwe is one of South Africa's youngest game reserves, it is one of the largest and most popular and each year hundreds of visitors find themselves exploring the beauty and tranquillity of safari park's landscape. The reserve is situated on land that was once massively overly utilised and it took a large ecological preservation project known as Operation Phoenix
The Lie of the Land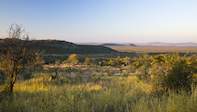 Madikwe's landscape is made up the occasional mountain and rocky outcrop, open grasslands, bushveld. Located on the edges of the Kalahari, and as a result of Operation Phoenix, the nature reserve is home to a number of rare naturally occurring species.
The rich and diverse vegetation results in Madikwe being home to an abundance of wildlife including; the Big Five, Wild Dog, Cheetah, Hyenas and Giraffe- a visit to Madikwe Game Reserve promises excellent game viewing opportunities and plenty of exciting sightings.
The ecological safari park is run as a joint venture between the government, private owners and local communities ensuring that the people living in the area benefit from the profits made in the reserve. A closed safari park, visitors can only enter the reserve with a reservation at one of the 30 privately run luxury safari lodges.
Game Viewing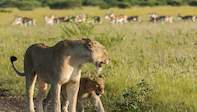 ©Roger de la Harpe
Self-drive game viewing is restricted to a very limited road network that essentially only allows visitors to navigate between the main entrance gates and the lodges. Instead of exploring the reserve on their own esteem, visitors are treated to twice daily organised game drive excursions that take one out into the bush to view the wildlife.
Enthusiastic game rangers facilitate the game drives ensuring every guest has the best game viewing experience possible. Providing interesting facts about the animals and birds as well as a greater insight into the landscape and the environment, the guides are an essential addition to the Madikwe safari experience.