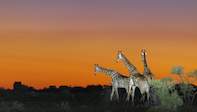 Ideally located between Johannesburg and Gaborone, Madikwe Game Reserve provides the perfect safari near Johannesburg getaway for businessmen and safari holiday travellers alike.
Situated in South Africa's North West Province, on the border with Botswana, this 75 000 hectare wilderness is approximately 25 km from Gaborone and 355 km from Johannesburg and Pretoria and its location ensures an excellent, malaria free South African safari destination.
Lying within a transition zone between bushveld and Kalahari thornveld, madikwe hosts an incredible diversity of species from both ecosystems. Madikwe Game Reserve is only a 1 hour flight from Johannesburg, making it a convenient destination for a safari near Johannesburg.
Stories of Legend
Madikwe Game Reserve lies in the Groot Marico farming area, a region made famous by the much loved author Herman Charles Bosman. Stories of Oom Schalk Lourens and the
people of the Groot Marico
have enthralled South African's for generations and some of the reserves entrance gates bear the names of places made famous in Bosman's stories.
On the doorstep of Sun City Resort
Madikwe Game Reserve is also a short drive from the legendary playground of Sun City Resort, making it the ideal combination for a weekend getaway from the city or business conference. Many travellers are now combining the two destinations as part of their South African safari.
How to get to Madikwe Game Reserve
Read more about directions, routes and
How to get to Madikwe
Game Reserve.