A safari can be one of the most enjoyable holidays for families to experience, and there are many places that offer family-friendly safaris, with Madikwe Game Reserve in South Africa a leading option.
Madikwe Game Reserve, solves all of your problems, regarding taking your children on a safari holiday:
No malaria
Lodges that cater especially for families - by providing children's activity programs
In the past very few families even considered a safari as a holiday activity due to perceived discomforts of the rough terrain and the
threat of malaria.
However, even though there are precautions that can be taken against malaria, the one thing that has surely changed the face of family safaris, is the establishment of game reserves in malaria-free areas that cater specifically for families.
Before Planning a Family Safari
There is always a proviso:
Before planning a family safari, you would already know your children, and their limitations, or interest levels.
Firstly, you are going to be out in the bush. There are no pharmacies, clinics, hospitals or doctors for miles. So if little Johnny has certain health problems that may occasion some sort of minor emergency - being out here is probably not the best place for a holiday.
Second, if little Johnny is under 6 years of age, a more simple holiday destination would be a better choice, since young kids need more minding and attention, you can be assured that you will spend more time looking after his needs than doing any actual game viewing of your own.
And third, even if it is now ten-year-old Johnny, or teenager Johnny, the question is: does Johnny even have any curiosity about wildlife or nature in general? You may be spending a lot of money to take a disinterested child into a remote location filled with stuff he/she has no affinity for.
Some children have been exposed to the natural world either by going on basic camping trips, or nature park holidays in a family holiday mode, where there are plenty of other families, and of course kids, all around.
Other children have advanced to Boy Scout / Girl Guide / Summer Camp / Outward Bound level where exploration and curiosity are already being inculcated into them, in the company of their peers.
So, if little Johnny is not already on this kids learning curve, and has little interest in National Geographic on TV, or even nature in general - going on a safari will be very steep learning curve, similar to swimming training, where the trainee is "thrown into the deep end". Hence the need to be aware of your children's interests.
It is not advisable to settle on a place that claims to be family-friendly or child friendly - as this may merely mean that the lodge accepts children, but no actual children's activities are laid on.
Keeping your children happy on safari is the most important aspect of a family safari, as unhappy children make for a very bad holiday experience - for the family, and everybody else at the lodge.
We Take the Stress Out of Planning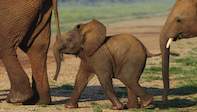 ©Roger de la Harpe
We have selected the real child-friendly establishments... the ones that have dedicated child-care staff and activities such as specially designed game drives for children and special lounges for kids.
We have removed the the stress of planning a family safari, by presenting you with these family safari tours that have been designed by ours experienced consultants with your family in mind.
Be sure, and speak with your Madikwe Safari Expert at the time of booking.