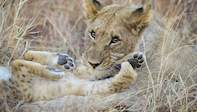 Madikwe Game Reserve is a superb family-friendly safari destination in South Africa that is malaria-free. These family safari lodges in Madikwe offer exciting activities for children on safari.
Jaci's Lodges
For a malaria-free safari in South Africa on the eastern edge of Madikwe Game Reserve, Jaci's Lodges offer a heartfelt welcome to families in need of a luxury escape to the wilderness. Both Jaci's Safari Lodge and Jaci's Tree Lodge can accommodate up to 3 children under the age of 12 in suite with the parents. There are different game drives for adults, families and little ones. River views, bush walks, gym sessions and swimming can also be enjoyed.
Jaci's Lodges offer a variety of great rates for families depending on the season and promotion on offer. Free Jungle Drives are included for children 4 years and younger. Children feel like part of the family at Jaci's and the lodge staff include them in various activities and duties. Jaci's has a playroom and the lodges are fenced off from the reserve.
Guests enjoy a specialised family friendly safari in Madikwe Game Reserve at Jaci's Lodges. Parents and children between 5 and 12 years can climb aboard the family safari vehicles and discover the wilderness together twice a day. Little ones under the age of 4 go on Jungle Drives once a day where the ranger points out things the children find interesting, like the toothbrush tree and fascinating insects. Parents can go with provided they get into the spirit of it all!
At Jaci's, children under 12 eat dinner early and can select meals from a menu of favourites. The chef takes into account likes and dislikes and the food is freshly prepared with plenty of vegetables. A free childminding service is provided while parents are on game drive and at dinner.
Parents return off the game drive to find the kids already bathed, dressed and fed. This gives the adults a chance to enjoy an evening drink and a romantic dinner at leisure. Breakfasts and lunches are enjoyed together as a family.
Visit Jaci's Lodges
Tau Game Lodge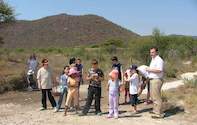 Guests looking for a family friendly safari in Madikwe Game Reserve will find this luxury lodge on the far northern border of South Africa. Youngsters and adults can enjoy a malaria-free safari and much more at Tau. Accommodation facilities include spacious inter-leading units and the main living area of the lodge is discreetly protected by electric fencing.
Tau offers great rates for children sharing with parents.
Tots less than 2 years old stay free (a babysitting service is available on request)
3 - 5 year olds pay a nominal fee and automatically become members of Tau Cubz Club
youngsters between 6 and 11 years stay at 50% of the standard rate, receive a Cubz Club activity booklet and can join adults on game drives or siblings in Cubz club activities.
Tau Cubz Club offers a short game drive after breakfast followed by entertaining treasure hunts and arts and crafts activities. Each member of the club is given a back pack containing a Tau T-shirt, wildlife activity booklet, an animal sticker checklist, deputy ranger sticker badge as well as a certificate signed by their ranger.
There is a spacious playroom for organized activities and arty projects. Kids enjoy child-friendly food with lots of fruit and vegetables in addition to the regular lodge menu. The Tau Curio Shop has great gifts for children including Tau Game Lodge Puzzles and animal puzzles, spacious all-purpose back packs, multi-lingual interactive CD's and board games.
Parents on a family friendly safari in Madikwe Game Reserve at Tau Game Lodge can rest assured that the children are well taken care of while they enjoy fabulous lodge activities such as game drives, birding safaris, spa sessions and quiet time by the plunge pool.
Read more about Tau Game Lodge in Madikwe Game Reserve.