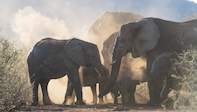 © Shem Compion
Madikwe Game Reserve is a family friendly and malaria free safari destination in South Africa. With its diverse vegetation and the possibility of spotting all of the Big Five animals, it is a major attraction to tourists.
Proclaimed in August 1991, Madikwe is one of South Africa's largest game reserves, 75 000 hectares of diverse vegetation and landscapes consisting of vast plains of open woodlands and grasslands, with rocky hills and rugged mountain ranges.
A wide range of animals live in the various habitats created by this landscape and the topography provides excellent game viewing. There are 300 resident and migrant bird species in the reserve.
Madikwe is distinguished from other parks by being one of a few game reserves in the world which was established on the basis of best possible land use for this specific area. Madikwe is located in the North West Province of South Africa on the Botswana border, a 3 hour drive from Johannesburg and Pretoria.
Since the ground-breaking game translocation project began in 1991, an incredible 8 000 animals from 28 species have settled into their new home, this process was completed in 1997. The animals now resident at Madikwe include Elephant, Buffalo, Lion, Rhino, Cheetah, Spotted Hyena, Cape Hunting Dog, Giraffe, Zebra, many species of antelope and herbivores - Leopard already lived in the reserve and continue to do so.
It has a focus on conservation including the complete restoration of indigenous game species and rejuvenation of the land from farming to game management. Madikwe Game Reserve also acts as a superb role model for the management of such a venture, incorporating the local communities, the government and private sector, working together for the good of all. Madikwe Game Reserve fulfills a great purpose in many ways.
Marvelous Madikwe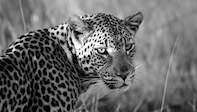 ©Karl Svendsen
Madikwe Game Reserve fulfils a great purpose in many ways. It is a malaria free safari destination in South Africa, with all of the Big Five animals and many more. It is also the ideal place for families and pregnant women to enjoy a great South African safari under the best conditions.
Although the reserve is in a remote setting, it is easily accessible within a few hours from O.R. Tambo International Airport in Johannesburg and also by good roads. Gaborone, the capital of Botswana is a short drive away. There are various transfer options available.
Let our Madikwe Destination Specialists advise you on the best way of getting you to your Madikwe safari lodge