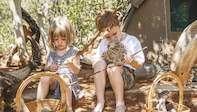 One of the aspects of an African family safari that concerns many parents is malaria, but child-friendly safaris at Madikwe come with the added bonus that the area is malaria free.
Madikwe Game Reserve in South Africa is fast gaining a reputation as one of the new frontiers in African Safari, what with
incredible game viewing
and top rate lodges combining with great service and easy access - and it is arguably the most family-friendly park in Africa.
Big Game Safari for the Whole Family
Many parents who travel to Africa with their children bemoan the fact that there are no
child-friendly safari activities
for their kids to enjoy. Many lodges accept kids but do not provide extra activities for the children whereas at Madikwe there are lodges that cater specifically for keeping the children happy.Members of staff are specially trained to deal with kids and ensure that they get the most out of their family safari and specially designed game drives for children
allow the parents to relax
in the knowledge that the kids are been well cared for.
Child-Friendly Game Lodges
Family safaris in South Africa take on a whole new perspective in Madikwe where kids clubs and designated play rooms have been set up at some of the lodges.
Specially trained guides and staff
ensure that the kids are kept happy, allowing the parents the opportunity to enjoy their own activities.Toddler care is available for the very young family members and parents can enjoy the afternoon game drives in the full knowledge that their young kids will be well taken care of.
For safe child-friendly safari packages there is no other option besides Madikwe Game Reserve, a place where the magic of Africa can be enjoyed by the whole family.