Both Kruger National Park and Madikwe Game Reserve epitomise the value that the citizens of the country put into wildlife conservation and community development.
South Africa is blessed with its beautiful landscapes and diverse fauna and flora and in the
Kruger National Park
the country has one of the greatest wildlife sanctuaries on earth. Millions of visitors flock to the park every year to experience the wonders of this African Eden.In more recent years the country has been at the forefront of re-claiming land for conservation, with
many new parks and reserves
coming to the fore to protect the environment. There is a park in South Africa however that was set up purely for business purposes, with the conservation aspect growing with the park.The Madikwe Game Reserve in the Northwest Province of South Africa was set up to
provide financial benefit for the communities
in the region - a venture that has succeeded beyond the wildest expectations of everybody. Today the park is a blueprint for future developments.
Madikwe or Kruger - An Impossible Comparison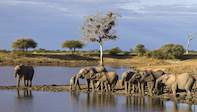 ©Roger de la Harpe
It is difficult comparing two parks as diverse as the Kruger National Park and Madikwe as they are so different in size and management programs. Kruger Park is open to everyone with a
wide range of facilities
whereas Madikwe is only visited by people staying at the upmarket lodges - and this is the main point involved when comparing the two for travel purposes.It could be said that the
Madikwe experience is more personal
, having fewer people around wildlife sightings, but there are private upmarket lodges in Kruger that offer the same thing. When it comes to the service levels and the game viewing experience it could be argued that there is not much to choose between the two. The standard of accommodation is on a par and the game viewing can be dramatic in both parks.
There are two factors that Madikwe certainly holds over Kruger Park:
Madikwe Nature Reserve is in a malaria free zone.
Madikwe is closer to Johannesburg (4 hour's drive). Drive time to Madikwe is about 2 - 2.5 hours shorter than to Kruger Park, depending on road and traffic conditions.
There will be many opinions and ideas surrounding which is the best safari destination in South Africa to choose from. What must be borne in mind is that they
both offer an unbeatable experience
, so whether it is a Kruger Park safari or a getaway in the Madikwe Game Reserve the experience will be memorable.