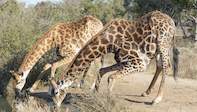 Madikwe Game Reserve provides the ideal Malaria-free safari destination in South Africa. Providing peace-of-mind particulary for pregnant women, parents with children and the elderly traveller.
There are a number of factors that have to be taken into account when planning and
African safari getaway
, with malaria protection been foremost on many people's lists. In the past malaria was one of the potential hazards that had to be accepted when travelling to Africa but recently more and more malaria free destinations are coming to the fore.
What does malaria-free mean?
Malaria is a disease
carried by mosquitoes and passed on to humans
when the mosquitoes are 'biting' - which is the sensation a person gets when the mosquito is sucking blood. As a mosquito can only become a carrier by drawing blood from an infected person the high risk areas are generally around settlements and towns.A malaria distribution map of Africa will show most of the well known wilderness areas as
having some degree of malaria occurrence
but in recent years reserves have been established in the malaria free areas of South Africa - allowing for a true malaria-free safari.Malaria-free means that the mosquitoes that occur in the area are not carriers of the disease. This may mean that the mosquitoes are of a different species or do not have the necessary adaptations to carry the virus.
More benefits of a malaria free safari
Many families do not travel to Africa because of the threat of malaria and the effects of the preventative medicine on children but with the malaria free game reserves
families with kids can travel without the fear.
A malaria-free area is also safe for pregnant women as they do not have to be concerned about the medication affecting their unborn child - and the affects of the malaria itself. A
malaria-free South African safari
is ideal for the couples who want to safari while pregnant.Of the malaria-free game reserves in South Africa Madikwe is arguably the ultimate choice with its
vast range of accommodations
and great wildlife viewing. The ease of access to Madikwe provides further benefit when planning a malaria free South African safari.For families with small kids, and pregnant women, and for those who are looking for a
great wildlife experience
without the hassle of preparing for malaria then Madikwe is the ideal option.